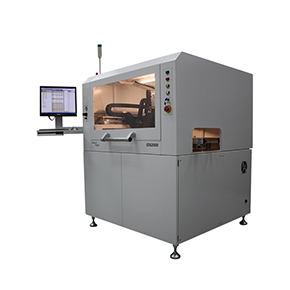 IDS2000 is suitable for medium to high volume productions; it combines flexibility with practical functionality for the most cost-effective dispensing solution.
IDS2000 is built on a dispensing platform that is designed for fast and accurate dispensing of a wide variety of materials. It is built using the latest technology on LINEAR actuators and motors with closed-loop feedback. Its accuracy and repeatability are extremely good and will meet or exceed the specifications demanded of today's high end dispensing systems.
This system is versatile enough to handle all kinds of solder paste, SMT adhesives, UV and heat-curable epoxies, and 2-part (dual cartridge) materials. It can come with integrated dispensing equipment or it can be configured to accept any specific request on external dispensers or valves.
It is also available in conveyorized (3 sections, SMEMA standard) or standalone configuration. In the conveyorized model, board width is adjusted simply by keying in the correct dimensions instead of manual adjustments.
User-Oriented Software
The UOS software is based on Windows™ for easy programming and learning. It has a simple user-friendly interface for setup and production. Engineers will find it easy to program different applications and operators will find it easy to use for production. Options and features are easily accessed on the screen. To aid programming, numerous standard patterns like rectangles, circles, and spirals are available.
The vision has features such as Reject Mark detection, Edge detection, SPC data and Dot Size measurements in addition to standard fiducial (local and global) alignment.