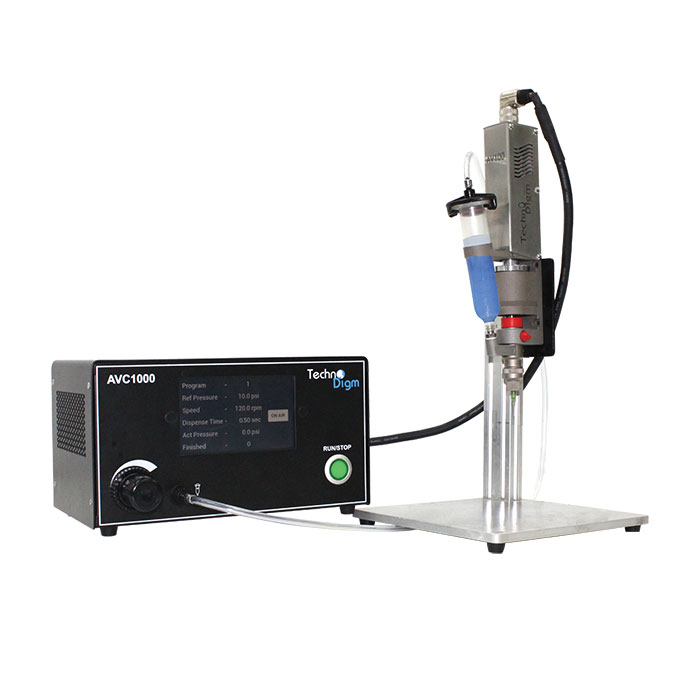 The AV100 auger valve is specifically designed for precision, accuracy, and repeatability. The AV100 is seamlessly integrated with our signature dispensing robots, resulting in a holistic dispensing system capable of fulfilling the requirements of applications such as gasketing, dam and fill, as well as component encapsulation.
AV100 is designed with a positive shut off that eliminates drooling. More importantly, this new feature allows the valve to dispense fluids with viscosity as low as 5K cps. Similar to the AV200, the AV100 is also driven by a DC servo motor.
Like all products, the AV100 is designed with maintainability in mind. The wetted component of the AV100 can be dismantled easily and quickly, without any tools.
Coupled with the AVC1000 controller, users have fine control over dispensing parameters such as the auger speed, dispensing time, and material pressure.
Features
In-Built positive shut-off mechanism ensuring drool-free dispensing.
Ability to remove the wetted part and be stored safely in a fridge to be re-used hence reducing wastage of material.
Consists of various leadscrew sizes for precise dispensing volumes.
It does not require high material feed pressure thus reducing built-up pressure.
Easy to install, clean and requires less maintenance.
Specifications
Operating type
DC Servomotor On / Off
Motor output power
100 W, DC24V
Driving torque
Max 0.83 Nm
Material inlet pressure
0.1 bar to 2 bar
Motor rotational speed
1 to 400 rpm
Dispense time interval
0.1 to 9999 second
Viscosity range
Low (5k cps) to High (500k cps)
Material inlet
Female Luer Lock Connector (standard)
Ø6 or Ø8 Compression Fittings (optional)
1/4" NPT Male Port (optional)
Operating temperature
20 ~ 40°C
Controller
TechnoDigm AVC1000
Weight
1260g
Type of feed screw
8 pitch with 1.5mm depth of cut
Maximum dispense rate
Maximum dispense rate for high viscous material (500k cps) is 50mg/sec (material dpendent)
Type of material used
Auger chamber
Hardened Stainless Steel
Leadscrew
Hardened Stainless Steel
Seal
Urethane Compound
Oring
Viton / FKM / Fluorocarbon