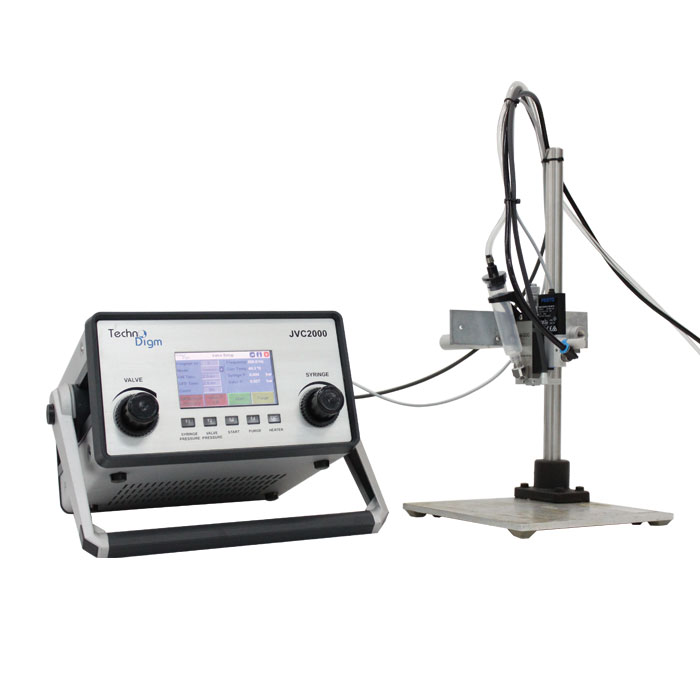 JV200 is Technodigm's superlative non-contact jetting valve engineered to jet low to high viscosity fluids such as greases, fluxes, epoxies and adhesives specifically for applications that require dispensing in difficult to reach areas or even uneven surfaces. Depending on types of fluid, typical dot sizes achievable can be from 0.3mm upwards.
JV200 when operated through its dedicated controller JVC2000, makes it possible to achieve better stroke control, improved close time, and faster full stroke open time resulting in seamless dispensing with speeds of more than 200Hz. The JVC2000 features a touch screen that has an easy and user-friendly interface for setup and operation.
The JV200 is also modular in design allowing the wetted parts and heater element to be separated from the actuator for quick and easy maintenance. In a nutshell, JV200 is able to perform dispensing with less turbulence for more prominent liquid yield consistency, reduced cycle time, and better process control.
Features
Fast dispensing at more than 200Hz
Micro shot size as small as 0.5 nL (depending on fluid)
Jetting of low to high viscosity fluid
Has a heating element to assist better fluid flow
Modular in design for easy maintenance
Dedicated controller for easy use and setup
Typical Application
Jetting UV adhesive in medical device applications
Edge sealing
Assemblies of miniature parts like camera module assembly
Under-fill in micro-electronic package applications on PCBA
Specifications
Control Method
Electro Pneumatic
Valve Air Pressure
Typical: 4 to 5 bar, Max.: 10 bar
Syringe Air Pressure
0.1 bar to 10 bar
Min. Dispensing Time
1.7ms (valve open time)
Max. Dispensing Rate
270Hz (drops per second)
Viscosity Range
Low (1 cps) to High (200k cps)
Material Inlet
Female Luer Lock Connector
Heater Operating Temperature Range
25 ~ 80 ºC
Controller
TechnoDigm JVC2000
Weight
Valve: 692g
Controller: 7.8 kg
Power Consumption
100-240 VAC 50/60Hz 100w
Display
Touchscreen, Human Machine Interface
Standard Interfaces
RS232C, 24V / 5V PLC
Dimensions (L) x (H) x (W)
Valve: 85 x 105 x 75mm
Controller: 295 x 147 x 258mm
Operating Mode
Timed mode
Single activation of predefined burst after trigger signal
Continuous mode
Continuous activation of predefined burst after trigger signal
External mode
Valve open time controlled by external trigger
Type of Material used (wetted parts)
Fluid inlet / Chamber
Stainless steel
Nozzle
Tungsten carbide
Nozzle Seal
Teflon
Tappet
Stainless steel embedded with ceramic ball
Nozzle
Nozzle Diameter (optional)
0.1mm, 0.2mm, 0.3mm
Lifespan of Nozzle
Min.6 million cycle (material w/o abrasive filler)
Life Span for Tappet, Solenoid Valve & Actuator
Min. 10 million cycle (depending on dispensing frequency and temperature)