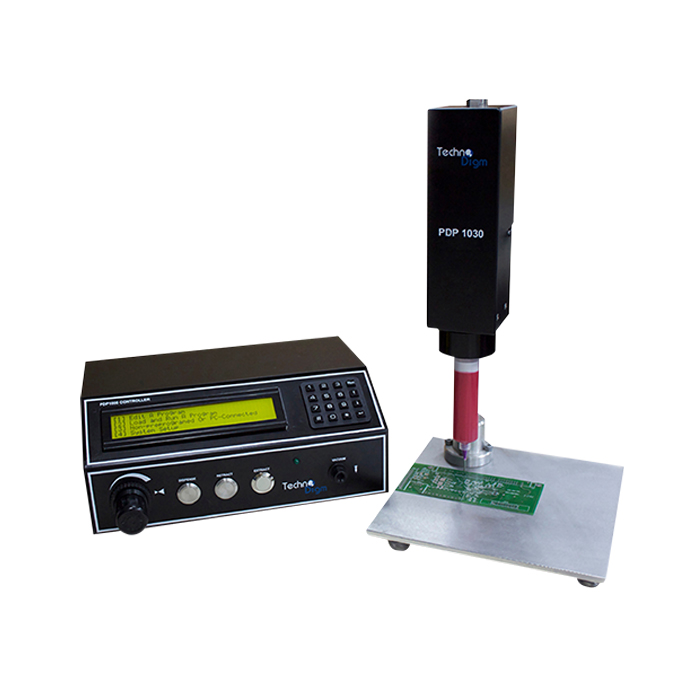 Positive Displacement Pump (PDP) utilizes a direct drive mechanism to deliver a precise amount of epoxy without using compressed air. It can be used on any type of material that is package in standard 30 and 10cc industrial barrel. It is especially useful for volumetric dispensing of short pot life material because there is no contact between motorized parts and material. This ensures that no material will be dried or cured within the equipment, enabling it to be used with little or no maintenance.
PDP is a truth volumetric dispenser because it dispenses the exact volume of programmed epoxy / adhesive. It is not influenced by the change in viscosity nor is it affected by any air pressure change. Built-in features ensure that there will be no dripping or drooling of material after dispensing.
PDP is designed to be mounted on dispensing robots. It comes with an easy-to-use and features packed controller, PDP1000. The controller allows users to enter the volume to be dispensed in a couple of ways. Controlled by microprocessor, it allows the saving of up to 9 programs.
Features
Volumetric Dispensing up to 2 – 5%* tolerance
Microprocessor Control (Micro stepping)
Large LCD Display
Easy Programming
No dripping or drooling of material after dispensing
Influenced by material used, syringe type / packaging and volume dispensed
Specifications
| | |
| --- | --- |
| Dispense Resolution | 0.001mm (0.0004/ 0.0001cc on a 30/10cc Syringe) |
| Dispensing Speed | Adjustable from 0.5mm/sec (depending on models) |
| Low Level Sensing | Audio Alarm and Automatic Retract |
| Material Level | Graphical display on LCD |
| Stored Programs | 9 |
| Dispensed Volume | Direct setting / Stroke setting |
| Weight (Valve) | 1.45 kg |
| Weight (Controller) | 3.2 kg |