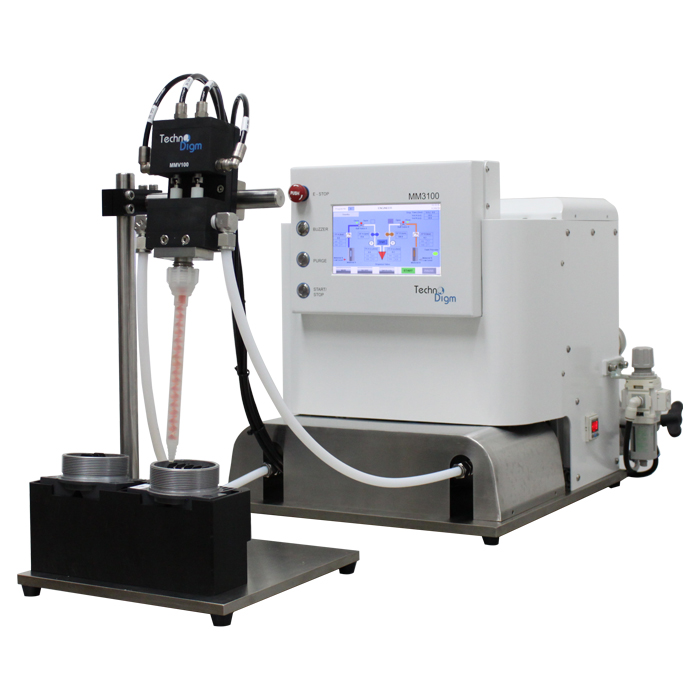 Precision metering and mixing, two completely complex processes that can be effortlessly incorporated by our Gear Pump Dispensing System, is today's solution to the rapid development of new mixing and dispensing processes.
The MM3000GP series has been specifically designed to provide high precision volumetric metering, homogeneous mixing, and consistent dispensing. The versatility of this space saving bench top system enables the user to dispense materials with MULTIPLE mixing ratios without the need to make any hardware changes. One unique feature of this machine is also the flexibility to be used as a standalone system or be integrated with our range of dispensing robots to automate the manufacturing processes.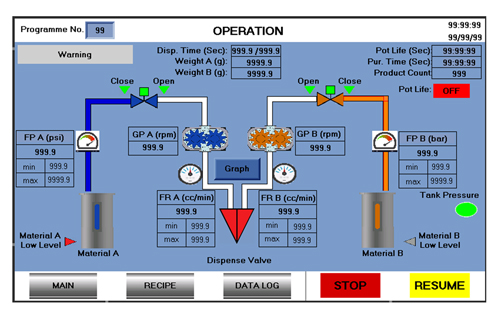 MM3000GP series boasts a one-of-a-kind user-interactive software via a fully touchscreen panel that is easily navigated by users. It displays a multitude of feedback and control options that can be monitored in real-time such as Fluid Pressure, Dispensing Flow Rate, Gear Pump's RPM, and many more. These data will also be captured internally to help users to conduct further analysis to continually refine processes whilst improving efficiency.
Features
Gear pump volumetric accuracy at ±2%.
Able to be customized to handle material viscosity ranging between 1cps – 1M cps.
Handle multiple mixing ratios ranging between 1:1 to 1:10 without hardware changes. (subject to process limitations)
Ability to be used as a standalone system or be integrated with robots.
Interactive and user-friendly software, requiring no programming experience.
Display real-time feedback and control monitoring including dispensing flow rate, fluid pressure, gear pump's rpm and etc.